Dolce&Gabbana's newest boutique in Japan looks to embrace the country's unique contrasts and adds to the mix subtle reflections of Sicily and Italian fashion.
Dolce&Gabbana's newest boutique's in Tokyo rises in the luxury shopping hub of Aoyama: a stone's throw from Shibuya, where the most trafficked crossing in the world is located, walking distance from the stillness of the 700,000-square-meter forest which houses the Meiji Shrine, and just a short distance from Rappongi Hills, a state of the art integrated property development which reflects the forward looking soul of Japan.
"Japan is a country full of contrasts: it is simultaneously classic, modern and contemporary. Our boutique will be luminous and graphic. Visitors will feel as if they were experiencing a sunny Sicilian day in Tokyo…"


Domenico Dolce and Stefano Gabbana
The innovative design project establishes an emotional connection between the structure, product and materials through light effects, contrasts and special perspectives.
The boutique covers an area of 550 square meters. Both the architectural design and decor express Sicily's distinctive and vibrant luminosity through chiaroscuro effects. The boutique is a space resembling a compact black volume lit by light projections that illuminate the displayed collections in regular intervals. The 400 spotlights on the ceiling, move around, switching on and off, making the product burst with color or remain in the shadow, giving the atmosphere of a sunny day.
"The light of Sicily shines in the new Dolce & Gabbana boutique in Aoyama: a play of lights and shadows reveal the refinement and wonder of the creations."

Gwenael Nicolas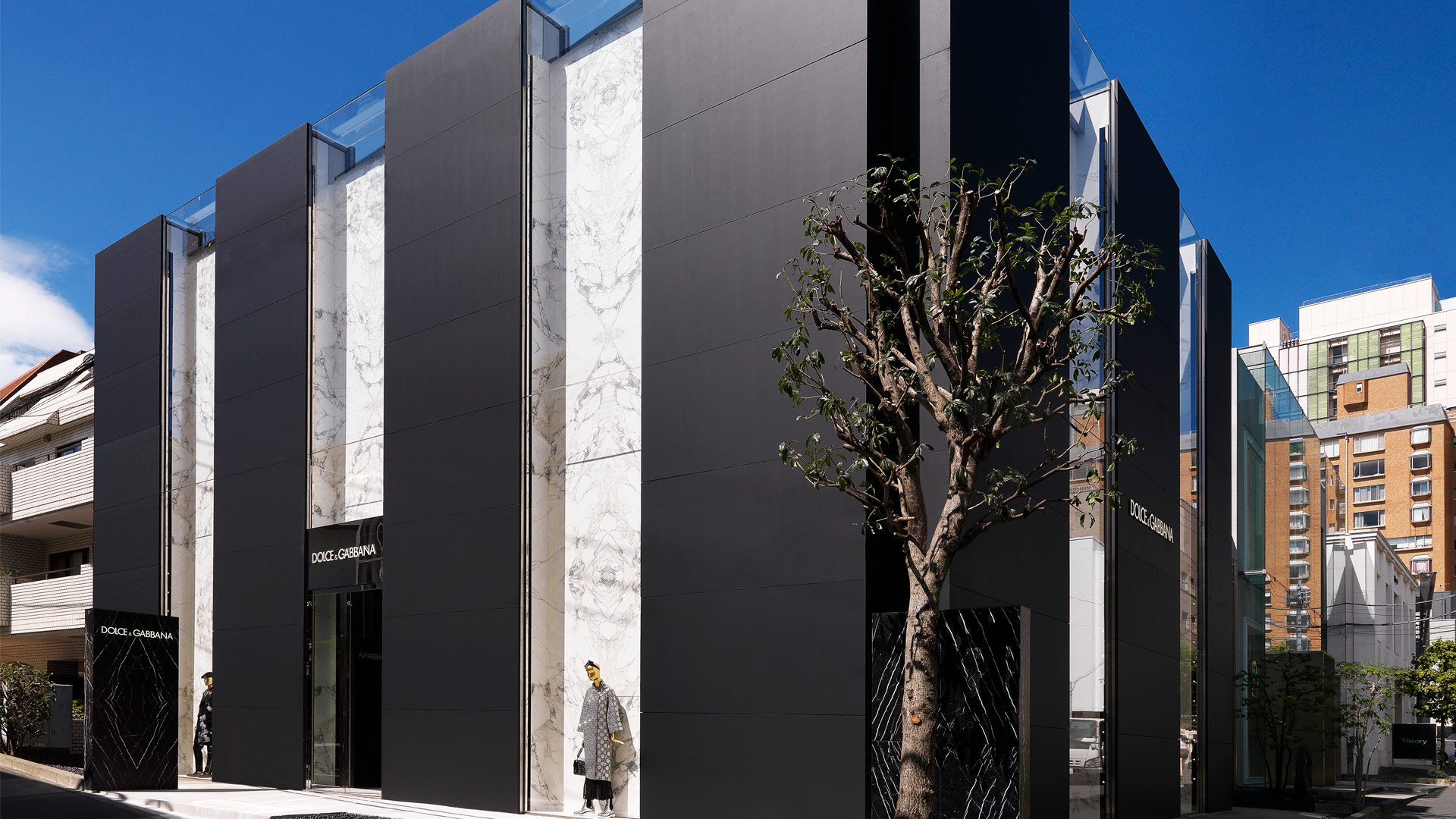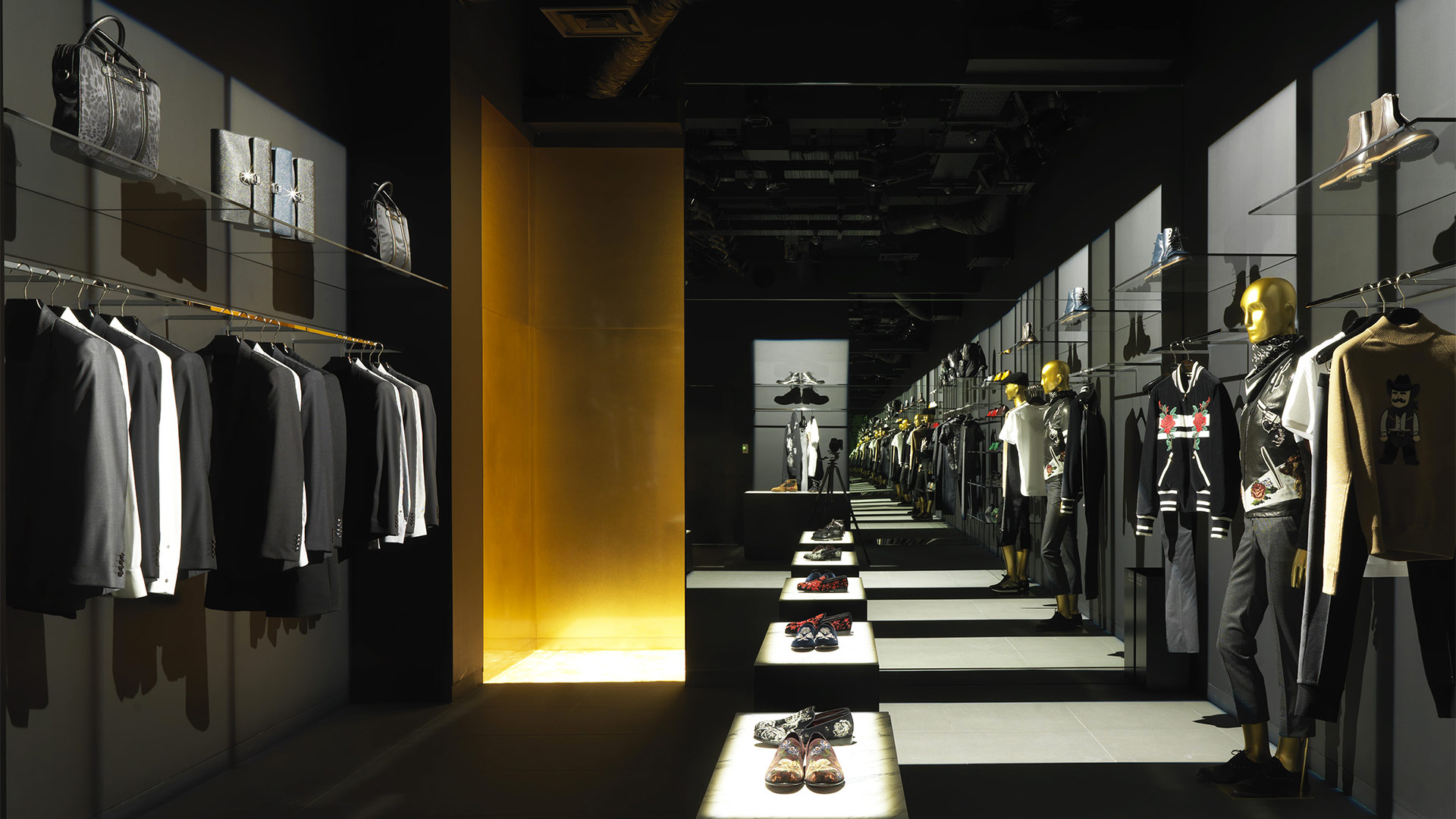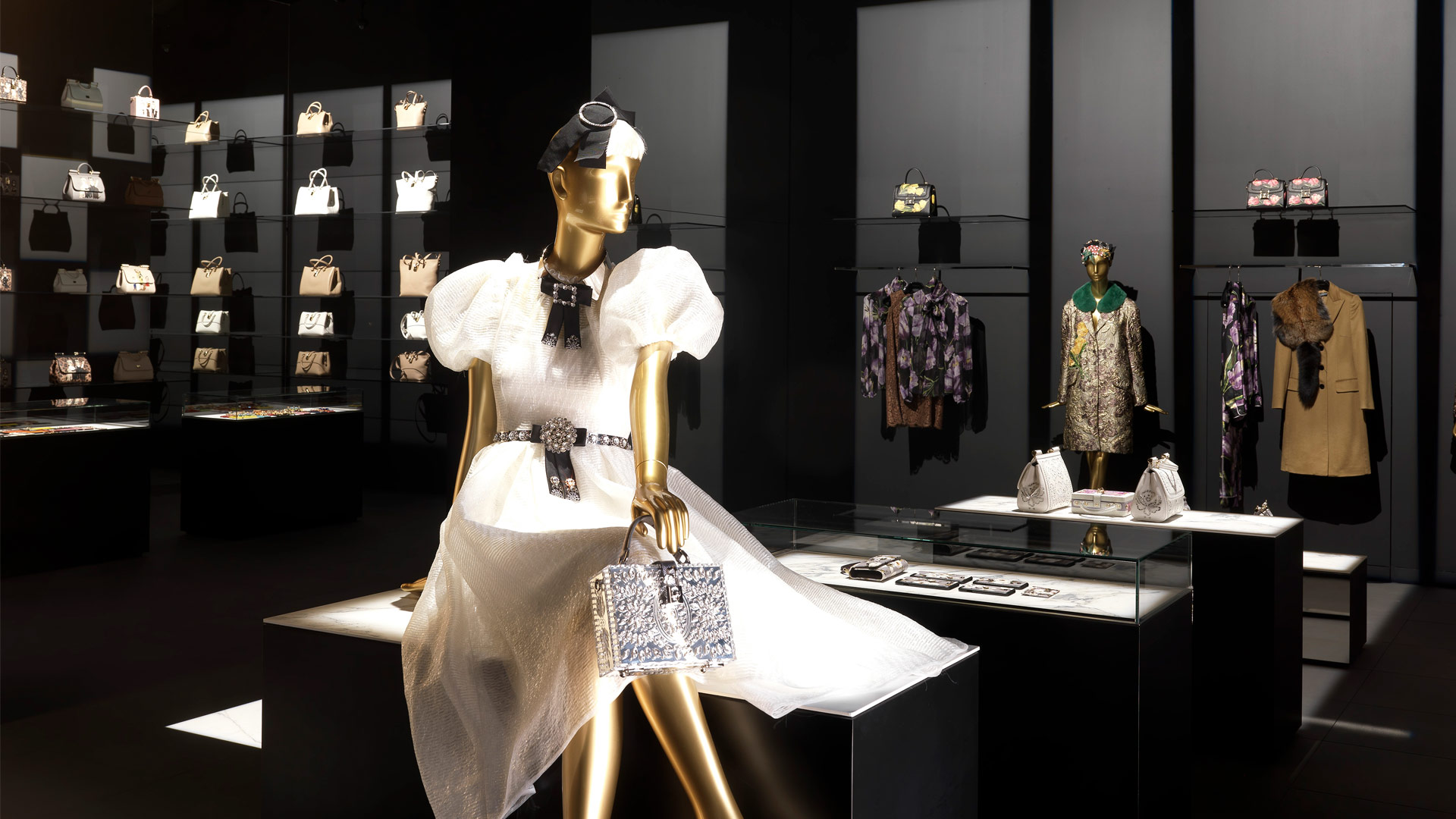 The Aoyama boutique houses the Menswear and Womenswear Collections, clothing and accessories distributed on two levels. The ground floor displays the men's and women's ready-to-wear collections, accessories and small leather goods. The first floor is home to footwear, men's formalwear and women's evening wear. There is also a space with a special design concept that displays the fine jewelry collection which is characterized by a gold carpet and brass ceiling and details.
The outside of the store is in Arabescato marble, which also covers the inside of the store windows and inserts in the display cases for small leather goods. Meanwhile, the majestic panel in front of the entrance with the Dolce&Gabbana sign is in black carnico marble. The floor of the boutique is tiled with black ceramic. The large gold staircase, a homage to the heritage of Dolce&Gabbana, attracts attention like a huge candle at the center of the space yet also transmits a sense of strength and confidence.
 Dolce & Gabbana worked together with the fashion school Tokyo Mode Gakuen asking students to create drawings for a shopping bag especially created for the boutique opening depicting Domenico Dolce and Stefano Gabbana together with their cats and dogs in front of a graphic reinterpretation of the encounter between Mount Etna and Mount Fuji.