Meet the men and women who keep alive the ancient tradition of Sicilian handicrafts and who lent their art to the Dolce&Gabbana and Smeg collaboration.
Dolce&Gabbana and Smeg have joined forces in a unique project which accentuate the expertise of these two excellences of made in Italy. The technological expertise of Smeg in terms comes together with the iconic Dolce&Gabbana style. The project focusses on the Fab 28 refrigerator, 100 of which will be skilfully decorated by Sicilian artisans in the style of the traditional Sicilian horse drawn carts, ceramics, and much more. A selection of these one of a kind fridges has been on display at Metropol Theatre in Milan during the Salone Internazionale del Mobile 2016, from April 12 to 17.
The 100 refrigerators are each skilfully hand decorated in unique designs by craftsmen and women from Sicily who specialize in keeping alive the ancient traditions of the folk arts of the Italian island. Find out more about these artists here.
Sebastiano Patania – Tradition and craftsmanship
Since 1973 the Patania family have been making the traditional Sicilian Pupi, the famous puppet, in San Giovanni la Punta, Catania. Synonymous with professionalism, creativity and tradition, the Patanias have built an artisan business which has Sicilian tradition and unique charm at its core. These "treasures of the past" are refined, harmonious and unique objects. They are the result of a passion for the craft, a sense of belonging to their land and a meticulous love for quality materials. The age-old technique, which simply requires the hands of an expert craftsman, is an unchanging element in the creativity of the Patania family. In addition to the creation of the Pupi, a constant search for vintage items, and nurturing customer relationships, the Patania family also specialises in making the traditional "Coffe". These antique baskets hold food for the horses and are kept under a cart. Today they have been turned into straw bags covered with velvet, fringes and leather of the finest quality, decorated by hand and with ceramic additions.
Salvatore Sapienza – It all started with a wheel
Salvatore Sapienza was born in Catania in 1980. His passion for the decorative arts started when he was only 13 years old. His story as a decorator of Sicilian carts began by chance, when he painted an old wheel. After restoring the wheel and painting it, his father showed it to two veteran decorators. It was the beginning of a long story about art, love and craftsmanship and luckily has never ended. Salvatore began working with the decorators, Domenico Di Mauro and Antonio Zappalà, in their workshop. Di Mauro was his master and his mentor, teaching him all the tricks of the trade. He quickly fell in love with cart art and soon it blossomed into his great passion. With sacrifice and great effort, Salvatore has made over 30 Sicilian carts. Today Salvatore works in a fruit shop he took over from his grandfather 12 years ago. Who knows what he will create if in the future he finds time to indulge in his greatest passion every day.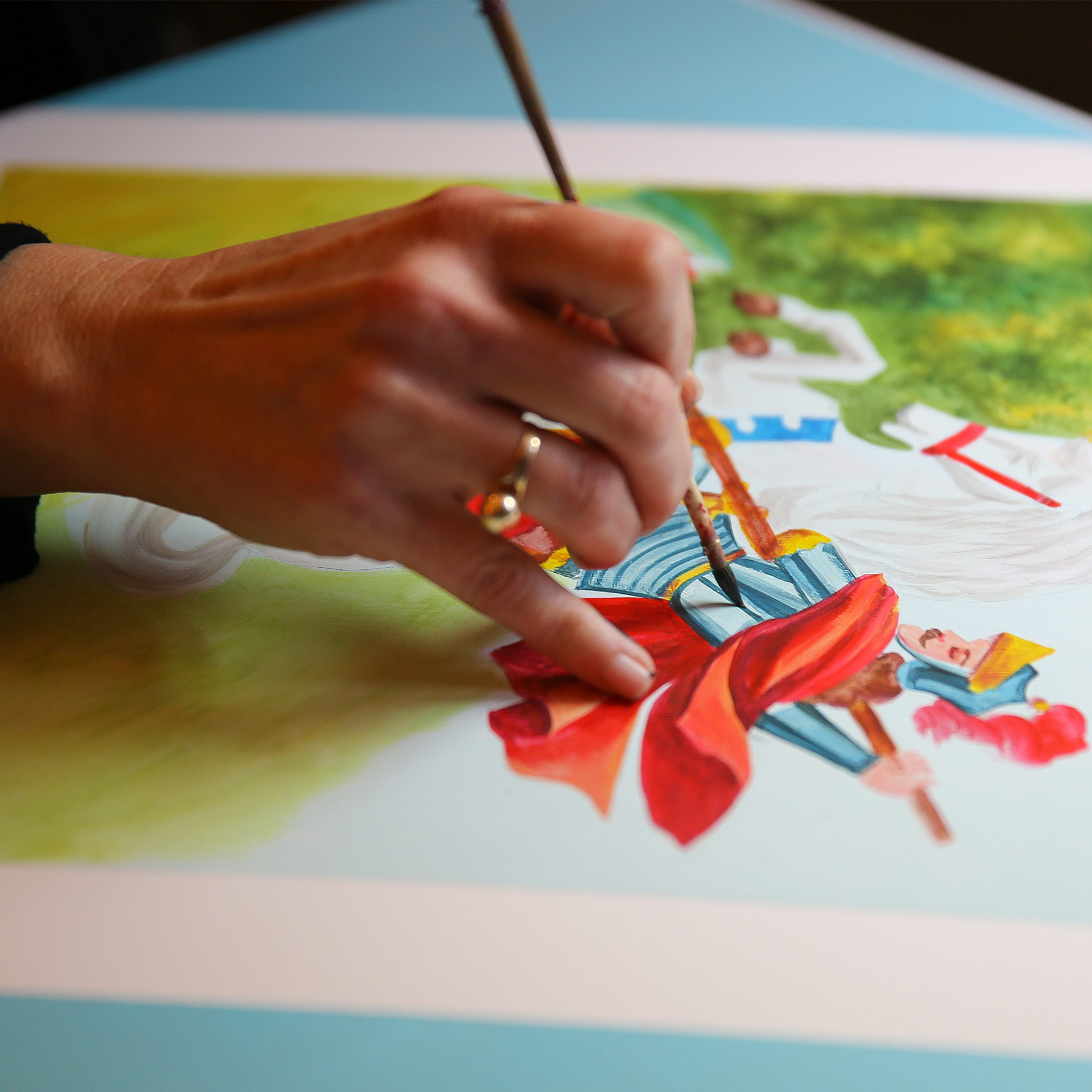 Alice Valenti – The story of a pupil and her teacher
Born in Catania in 1975, Alice still lives and works in the city. She graduated in Conservazione dei Beni Culturali di Pisa and then returned to Sicily where she trained in the Maestro Domenico di Mauro in Aci Sant'Antonio, the prestigious workshop of Sicilian carts. Many years before, the paths were laid for the master and the pupil to cross: for Alice the discovery of carts came from her interest in "objets d'art" and the "roots of her family". The two of them, together with a very small circle of artists, tell the story of a world that is now distant, but not yet lost. As the only woman amongst the very few painters of carts to inherit this age-old and complex decorative art, she studies in depth the multiple aspects of the popular artistic tradition. She draws inspiration from a personal interpretation of Sicilian folklore and its traditional themes. Alongside her production of painted furniture, paintings and everyday objects, she also works in interior design, fashion and theatre, all with a subterranean vein of irony and a touch of nostalgia.
The Bevilacqua Brothers – Artistic ceramics
Ceramica Bevilacqua is a family-run artisan workshop based in inland Sicily, Caltanissetta. Since 1997, artists Antonio and Giuseppe, who are also brothers, have sought inspiration in Sicilian majolica and the island's traditional decorations. Yet, all their work is extremely recognisable and bears their personal touch. Amphorae, vases, plates and clocks are only some of the marvellous pieces produced. All the creations by the Bevilacqua brothers are dominated by bright yellow, intense blue, emerald green and deep black, representing the Sicilian sun, sea, hills and the lava on Mount Etna.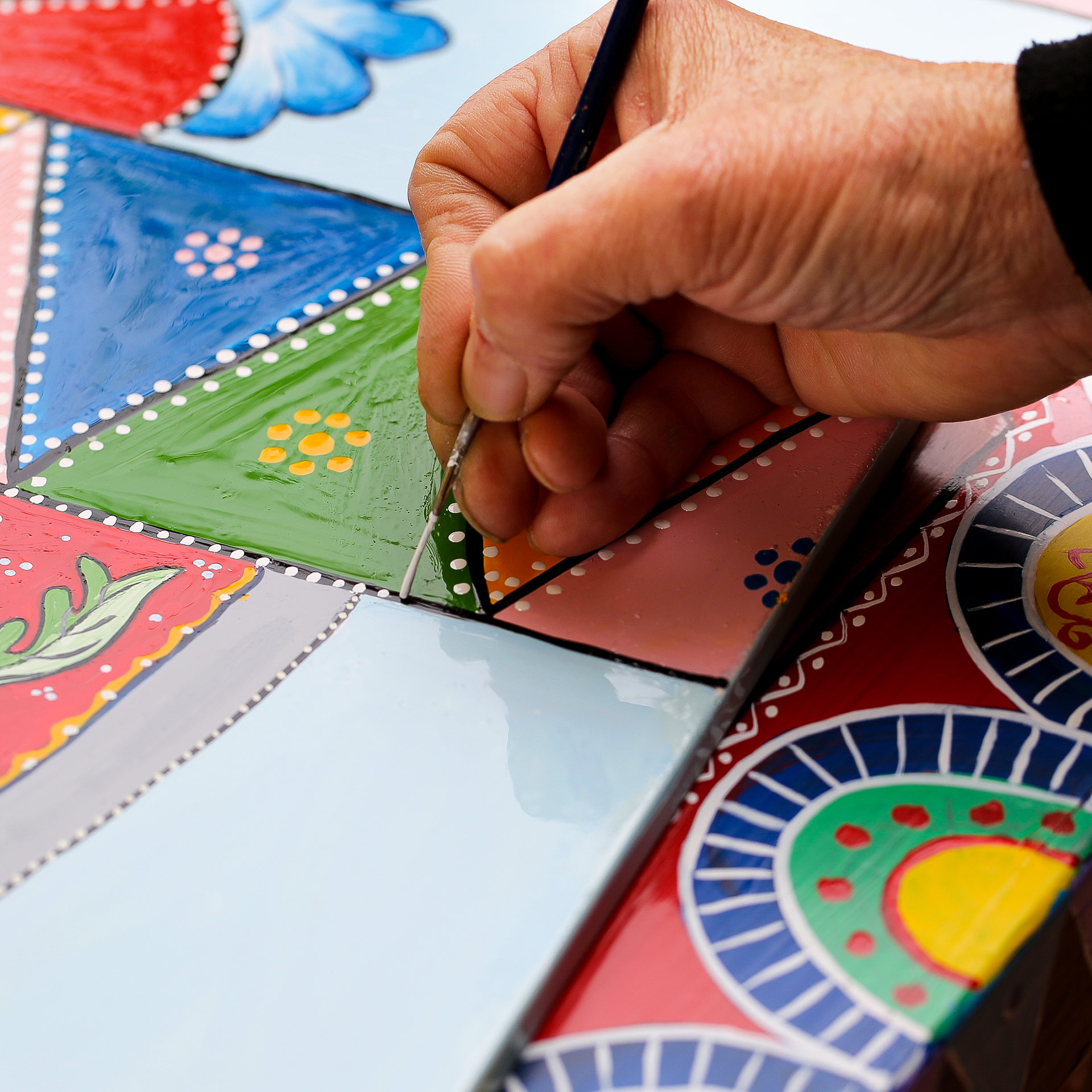 Adriana Zambonelli and Tiziana Nicosia
Mother and daughter, united by the same passion. Walking through the central streets of Catania, it is almost impossible not to be drawn into a fascinating artisan workshop. Welcome to the small and charming kingdom of Adriana and Tiziana, mother and daughter, brought together by an incredible passion for the land they were born and raised in. Born respectively in 1977 and 1950, both Sicilian and both from, Catania, they work together in a volcanic symbiosis, forming an explosive couple. They work hard and devotion for their craft and maintain their sense of humility at the same time. United by a healthy and entertaining sense of irony, their secret is their love for Sicily, for culture, tradition and, naturally, for the art of the Pupi. The age-old culture of the carts, an important part of Sicilian "architecture", is a source of endless inspiration for them. Adriana made her first Sicilian Pupo in miniature more than thirty years ago. It was her passion for art that led her to exhibit her works around the world. With art hard-wired into her, Tiziana was inspired by her mother and decided to create something new, a unique artisanal object, artistic transpositions of Sicily. They study the history of Sicilian art day after day and invent new ways of telling its story.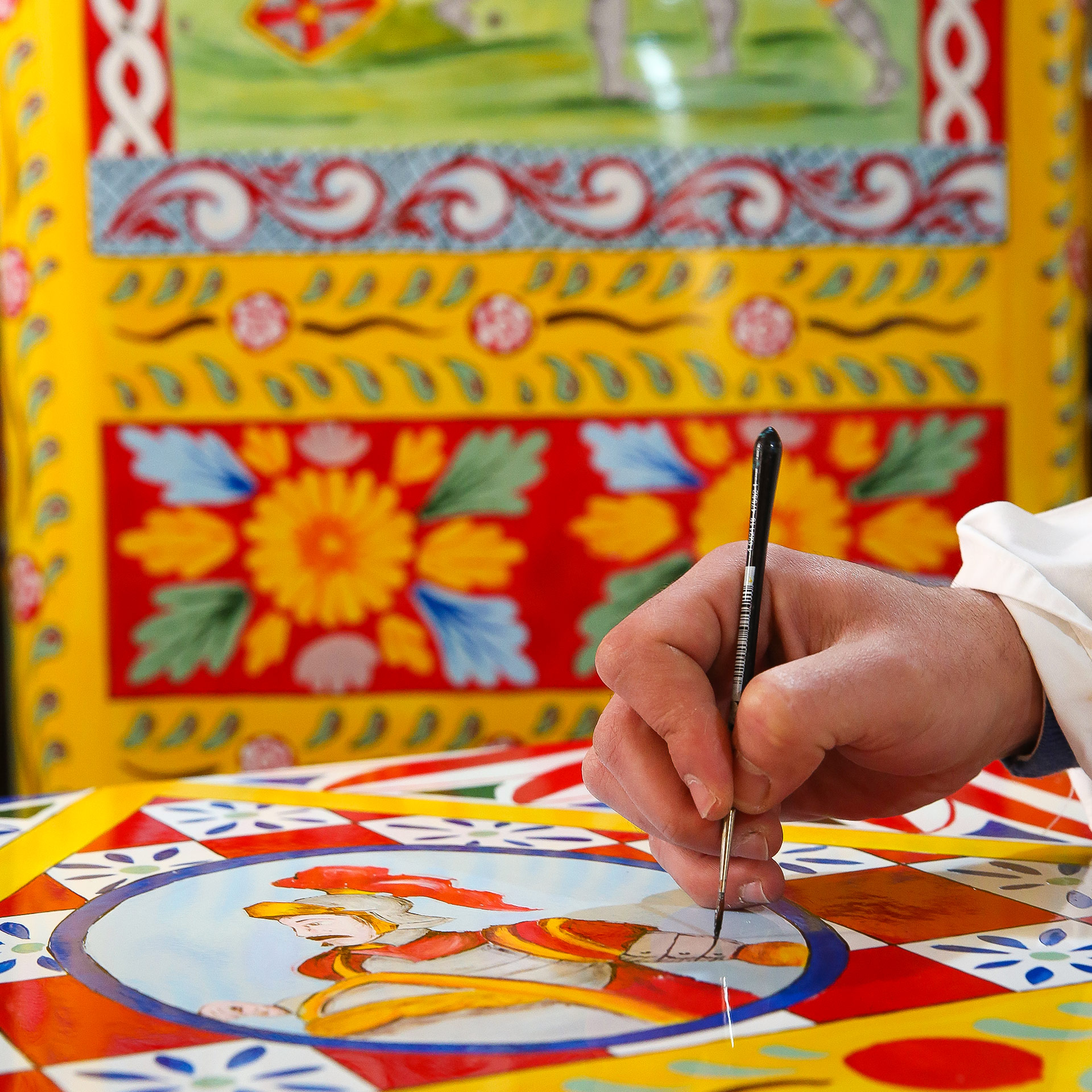 Biagio Castilletti and Damiano Rotella – art that unites
Biagio Castilletti was born in Ragusa Ibla in 1974. As the grandson of a Sicilian cart driver, he had a great admiration for carts ever since he was a child, and never missed an opportunity to draw them on every piece of paper within his reach. When he was twelve, he built his favourite toy on his own: a miniature cart which he decorated himself. As a teenager, he spent much of his time in the workshops of artisans creating carts. Here he learnt the fundamental skills that allowed him to open his own workshop in the town of Riposto, Catania. Biagio met the young Damiano Rotella in 2003, when Damiano was working as an apprentice in the workshop of Di Mauro and Zappalà, in Aci Sant'Antonio. Since then the professional lives of the two artists became entwined. Biagio, intrigued by the youngster's initiative, started to visit Damiano's workshop, giving him advice and support. This led to a friendship based on trust, mutual collaboration and a passion for craftsmanship, leading them to create a brand of quality and experience in 2011.