A great celebration of authentic Italian beauty: Dolce&Gabbana takes part in the Italian Pavilion of Expo 2020 Dubai under the aegis of its theme, Beauty Connects People.
The poetic and powerful project of the Italian Pavilion, which will present an evocative story of the territories, artistic treasures, genius loci, artistic crafts and innovative impulses that have always embellished the fabric of the beautiful country, finds multiple correspondences with the commitment of Dolce&Gabbana in safeguarding and promoting Italian excellence around the world.
For this homage to Beauty, Dolce&Gabbana has designed and created a special installation that celebrates the Italian artistic heritage while offering a unique experience to the visitors of the Pavilion. An architectural structure with baroque forms, typical of the architecture of the eighteenth-century gardens of Southern Italy, develops close to the flourishing botanical garden of the Pavilion, interacting with its colours. The elegant octagonal columns and the seats obtained from the brickwork are entirely covered with 1200 finely crafted and hand-painted majolica tiles by Sicilian master potters with floral interweaving, bougainvillea fronds, citrus fruits and bucolic landscapes. Following the tradition of craftsmanship, which draws its tools from nature to create true works of art, each individual tile is made from a mixture of clay and Sicilian lava stone powder and decorated with natural colours obtained from mineral oxides. The space welcomes visitors by giving them a regenerating break, immersed in the values ​​of artisanship and enveloped by the scents of the typical essences of the Mediterranean vegetation. As always in Italy, the beauty of nature interchanges and merges with the beauty born from the genius and the hands of man, in a virtuous exchange that generates new beauty.
The installation aims to be a symbol and testimony of the skills of Italian art masters in all their fields of action. They are a priceless intangible heritage, repositories of knowledge and skills that risk being lost forever, in a distracted and superficial age, if not enhanced, encouraged and communicated to the new generation.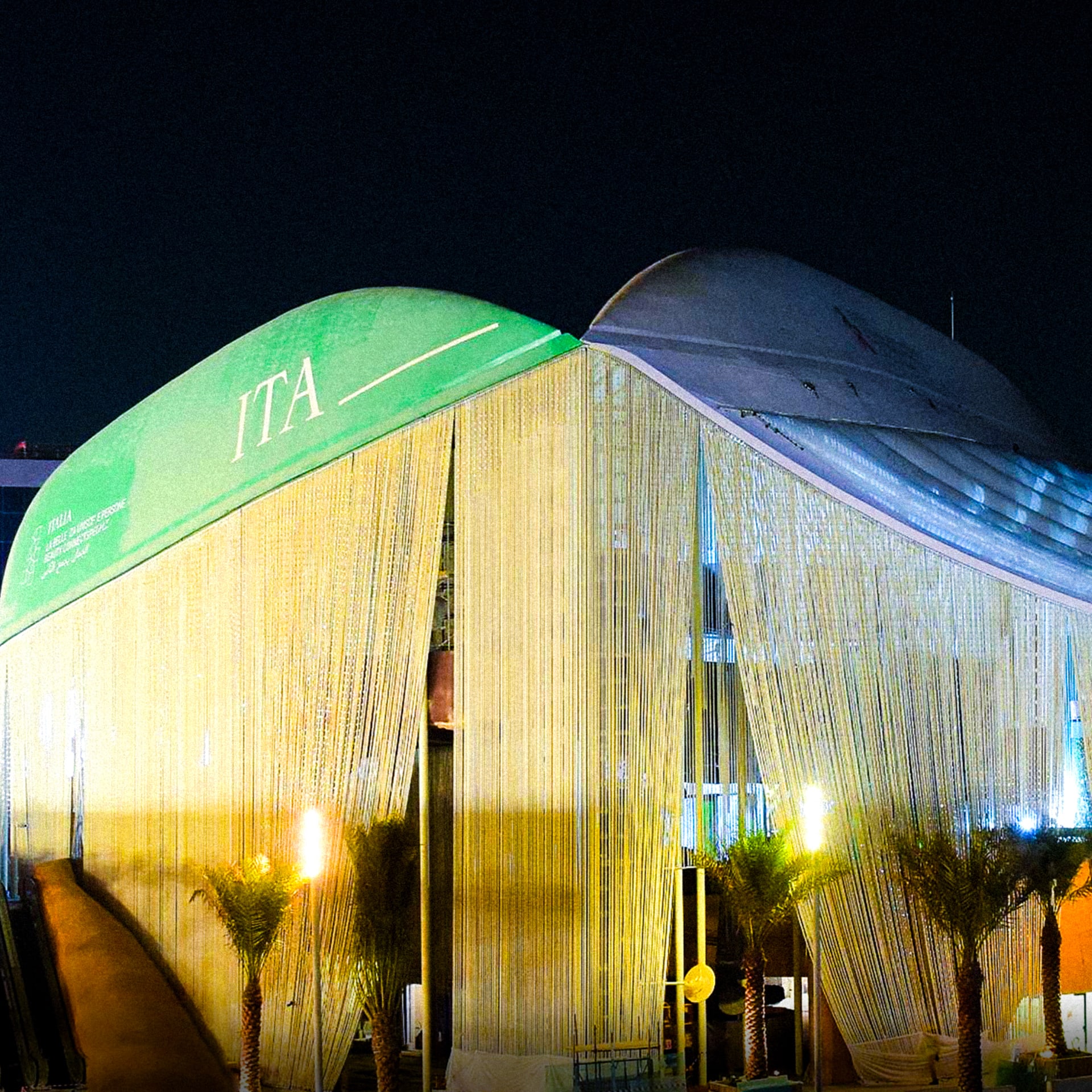 Dolce&Gabbana's commitment to Expo 2020 Dubai continues with another initiative involving the young people of the volunteer team of the Italian Pavilion: the brand has in fact designed and created the uniforms for the 60 students from universities all around Italy who will accompany visitors along the exhibition path.
By attending the Italian Pavilion of Expo 2020 Dubai, Dolce&Gabbana takes on a collective story that gives voice to cultural heritage while looking towards the future, a special approach that has always been part of the Italian soul: a great celebration of Made in Italy in the world and of craftsmanship as a means to ennoble human talent.