The Sicilian horse drawn cart with its craftsmanship, literary heritage, timeless appeal, and colourful patterns has been a point of reference for Dolce&Gabbana since the beginning.
The sights, flavours, colours and unique traditions of Sicily, a melting pot of southern Mediterranean cultures ranging from ancient Greek to north African passing by Norman and Spanish, contribute to the island's mythical and timeless appeal. Tourists from all over the world flock to this unique region of Italy, and many are seduced by its one of a kind atmosphere. The region's contrasts, both social to geographical, ranging from azure waters to verdant coast line and rocky, almost deserted areas provide endless discoveries and inspiration.
Thus Sicily, the birthplace of Domenico Dolce has been an inspiration and reference to Dolce&Gabbana since the duo's first forays into fashion. When looking back at the earliest collections, which launched Dolce&Gabbana onto the scene, the reference to Sicily is transparent and uninhibited. The Fall Winter 1987-88 collection was simply called La Sicilia, and clean lined black outfits inspired by the southern Italian peasant women who populate the region made the "widow look" desirable, captured by the expert lens of Ferdinando Scianna, who shot the timeless campaign featuring Marpessa.
With the evolution of Dolce&Gabbana, and the endless source of inspiration which Sicily provides, the design duo began looking at the folkloristic elements of the islands, such as the Sicilian horse drawn cart, ceramics, and even the pupi marionettes. These highly unique elements of the folkloristic tradition created a conceptual, ironic and wildly appreciate direction.
Image Credit: Naomi Campbell in the Dolce&Gabbana SS 1992 fashion show. Photo by Alfredo Albertone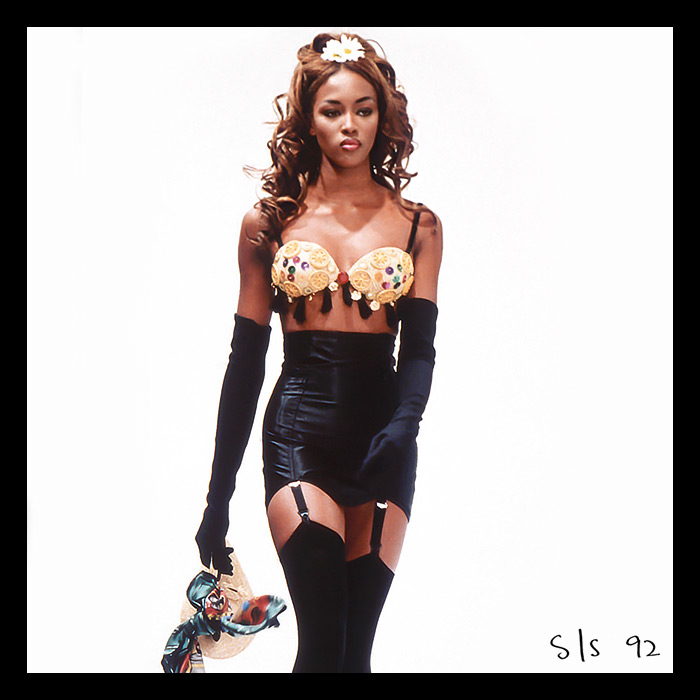 The craftsmanship which characterize these folkloristic elements from the Sicilian tradition, and the artisans which keep them alive are as important to the design as the significance of the inspiration. Thus traditionally crafted pompoms, straw weaved like the traditional coffe bags, mirror applications, passementerie and more continue to feature in Dolce&Gabbana collections on both accessories and apparel. In Spring Summer 2013, the design duo created a collection fully inspired by Sicily, an undying declaration of love towards the island and its heritage, featuring carretto prints, elements of carretto decorations as well as prints depicting other folk traditions like the Moorish vases, pupi theatre and majolica.
Just like one's family heritage, the folk traditions of Sicily run through the Dolce&Gabbana collections, sometimes overtly referenced, other times, tucked away like a secret reference that only those in the know will grasp. During the years, these inspirations have been transposed onto fashion, home accessories and more, thus proving that fuelled by love and respect there is nothing with Dolce&Gabbana's imagination cannot conjure.
Image Credit: Detail from the Dolce&Gabbana FW 1992-1993 fashion show. Photo by Alfredo Albertone
Cover Credit: Carla Bruni in the Dolce&Gabbana FW 1992-1993 fashion show. Photo by Alfredo Albertone